Expertise, efficiency and reliability
At Bear Creek Web, we help companies grow their business, increase conversions and improve sales by integrating essential services such as:
We create a complete solution that is tailored to fit the individual needs of each company we serve, and we are committed to providing responsive and reliable services that our clients can depend on for long-term success.
Compared to our competition, we create websites that resonate more effectively with target audiences, function better, utilize better coding techniques, and are more successful at achieving our clients' goals.
If your company needs specific, measurable results from your web presence, give us a try.
We will help you overcome the constant challenges involved with building and maintaining a web presence that delivers a positive ROI. Our company always provides work that is on time, on spec, and within budget.
When you're ready to experience the difference of truly responsive service and superior client satisfaction, we invite you to partner with us.
Expertise
We offer an integrated team of web design, development and marketing professionals who understand the importance of consistent project management, cohesive and relevant design, flawless programming and perfect execution. Unlike other companies, we don't use "jack of all trade" employees. Our graphic designers have advanced degrees in graphic design and extensive graphic design experience. Our developers have computer science degrees, and cut their teeth developing websites for companies such as Microsoft and Apple.
We get into your customers' heads
We help you define the personas of your best customer, and we work hard to tailor your message and communicate your market positioning to most effectively reach them. By working with you and drawing on our extensive experience, we are able to deliver information that compels the prospect to act.
We're efficient and nimble with big brand experience
We've worked on major sites and initiatives with Comcast, Tesoro Oil Company, Microsoft, Costco, Oracle, and The Moyer Foundation. But that doesn't mean we think we're too big for you. In fact, some of our most significant successes have been with small to medium sized companies and start-ups.
Cloud computing, droids, web properties
It's funny how buzz words are thrown around with such authority. Too often, the assumption is that if you use the current buzzwords, you surely must know what you're doing. At Bear Creek Web, we not only know them, we worked with the technology well before the buzzwords were coined.
You hire the "A" team, you get the "A" team
Your first contact will most likely be with Owner / CEO Kevin Mayer. Unlike other companies, you will not be passed off to junior level employees once the project begins. Bear Creek Web will staff your entire project with a dedicated team of senior personnel.
Reliability
Reliability is more than just uptime. It's keeping promises, returning emails quickly and always being reachable when needed. At Bear Creek Web, we know the challenges of running a business, and our goal is to make your interactions with us quick, accurate, and on point.
Who we are
Kevin Mayer, CEO Bear Creek Web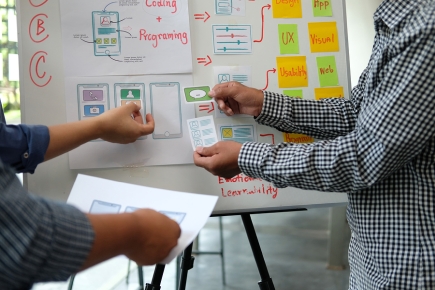 Kevin had already amassed more than twenty years of senior management experience with Fortune 500 companies when he created Bear Creek Web. His passion for helping people through technology emerged in his youth, and continues to grow today.
In the past, Kevin has used that passion to integrate information technology and sales departments, manage sales forces, create training workshops for senior-level managers, and conduct independent business consultations. In 1995, he created Bear Creek Web to bring his vision for what companies could accomplish with a well-strategized Web presence to a broader range of organizations of all sizes.
Kevin will be personally involved with your web design project here at Bear Creek Web, and you can look forward to a highly collaborative experience with all team members to ensure top-quality results from start to finish.
Design team
User experience is everything. Our design team understands that your best website design is the one that best meets the needs of your website's visitors. We work with you to design a site that is intuitive, responsive, and simple to navigate, so that your new visitors keep coming back, and your current customers remain engaged. With a total commitment to captivating web design that uniquely matches your brand, we stand ready to create the most engaging online experience possible.

Development team
Everything from Microsoft .Net and SQL Server technologies, to CSS, XML, XHTML, and JavaScript – you name it, we can code it! Our development team has experience with diverse programming languages and technologies for every type of website, and we have experts who have been in the web development field ever since the term "world wide web" was first coined. Our strict adherence to best practices ensures that your website loads fast, runs smoothly, and is error-free.

Marketing team
Our marketing team has over 25 years of experience with online marketing, and remains focused on staying abreast of the ever-changing requirements for successfully engaging audiences across the web. With diverse talents in content marketing, pay-per-click campaigns, SEO and SEM (including social media marketing), you can rest assured that your online marketing will get the results you need for your business.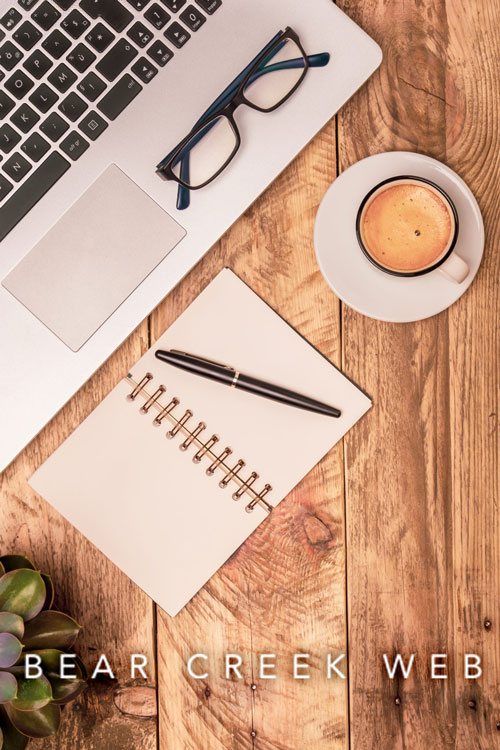 Mission statement
Bear Creek Web is a unique combination of small company values, large company capabilities, and the vision and talent that can only come from being serious, long-time Web enthusiasts. We provide strategically integrated Web design, development, hosting and marketing solutions for businesses who require specific, measurable results from their Web presence.
Compared to the competition, our Websites resonate more effectively with target audiences, function better, utilize better coding techniques, and are more successful at achieving our clients' objectives.
We think of ourselves as partners with our customers, our employees and our community. As part of our commitment to our community, we return 10% of our annual revenue to worthwhile non-profit organizations and charities.
The engine that drives our growth is fueled by our long-term relationships with high-performance, high-integrity companies. We invite you to partner with us on your next Web initiative. Click on the Contact link to get the conversation going.
History
In many ways, Electronic Data Transfer (EDT) and Bulletin Board Systems (BBS) were the precursor to the Internet. Kevin Mayer was involved with both as early as 1985. In 1989, he began experimenting with the Internet using a text interface and UNIX commands. His excitement escalated when he started thinking about potential commercial applications.
It wasn't until the first graphical browser was introduced in 1993 that the true power of the Internet was unleashed as a new medium of interactive communication. Two years later, Bear Creek Web opened its doors with the singular purpose of helping businesses understand and utilize the tremendous promise of the Internet.
Employment
Current openings are posted below. Among the many benefits of employment at Bear Creek Web are flexible hours, telecommuting, and competitive wages. Most importantly, employees are valued and rewarded for their significant contributions. Bear Creek Web is an equal opportunity employer.
Please fill out our contact form, and select Employment in the "Contact me regarding" field. Also, include a brief introduction and the position you are applying for in the comments field. If we feel that you are a potential fit for our team, we will contact you for additional information. Thank you for your interest!