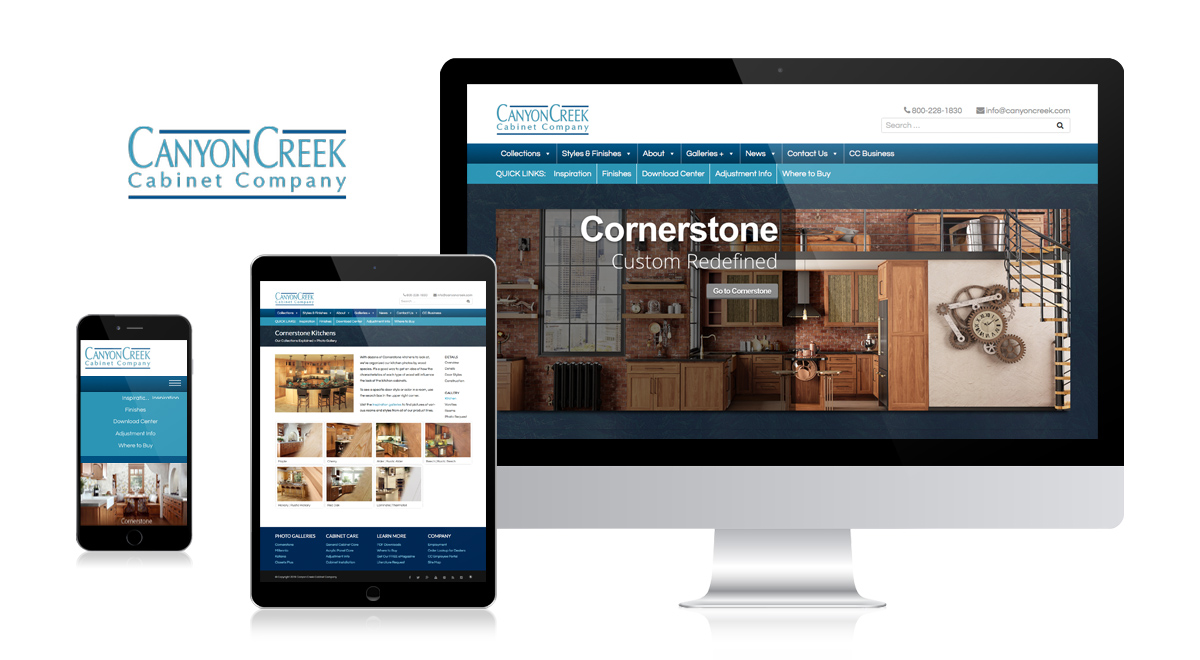 About the company
Canyon Creek Cabinet Company creates quality residential cabinet designs and custom-built closets for kitchens and bedrooms of all sizes. They pride themselves on sustainable manufacturing, and provide affordable yet beautiful designs for their customers.
Website goals
Canyon Creek came to us with a particularly urgent need and difficult circumstances that we've unfortunately seen many times in the past. The company had originally hired another web design and development company to revamp their 500+ page website, and the results were far from acceptable.
However, once the developer could not deliver on its original timeline, and while they were told by the developer that they were "90% done," when we looked at the development site, it was at best 40% done.
At this point, Canyon Creek had invested significant capital for a site that was well behind schedule, but when they attempted to cut their losses and asked the original developer for the files, they were required to pay another very significant amount of money to get the developer to release them.
Our solution
When we were brought in, Canyon Creek requested that we rebuild the project from scratch. There were exceptionally complex needs for the website, including product galleries, dynamic user areas, and multi-layer password restricted dealer only areas. In addition, the website required multiple third party integrations such as MailChimp and RSS blog feeds.
With multifaceted requirements and multiple deadlines already missed by the former developer, we set up an aggressive timetable to ensure that the project got back on track and expectations were not just met, but exceeded.
The end result was a sleek, well-designed website with all of the functionality that Canyon Creek required, delivered on-time and on-spec with zero hassles or excuses.
Testimonial
"Bear Creek Web is awesome! So easy to work with and very responsive and professional. They definitely know the technology and delivered what they promised within the budget and time frame we had established. I would definitely recommend them!"
— Cindy Draper