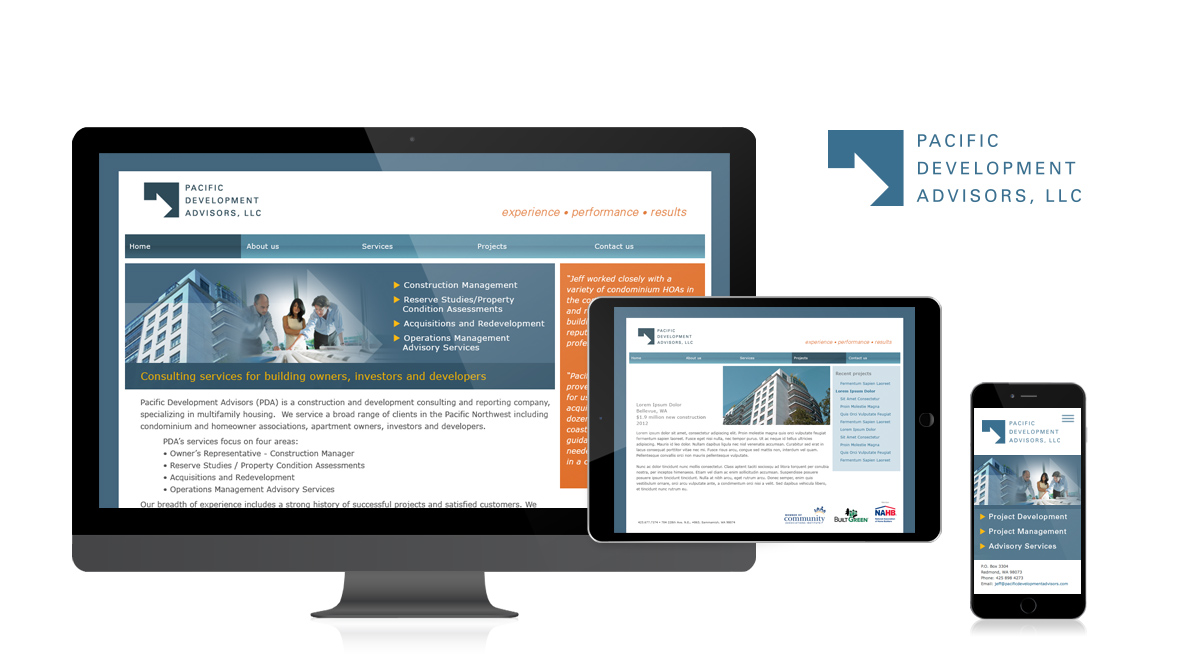 About the company
As an Owner's Representative services company, Pacific Development Advisors provides strategic advice and procurement of qualified construction staff and advisors for various building projects.
The company ensures that projects are completed within scope and in a timely fashion, thus saving owners' time and expense while preserving the high quality result that property owners expect.
Website goals
Pacific Development Advisors had very specific ideas for the successful design and execution of their website. In particular, they wanted to be certain the site communicated their unique relationships with quality people in the industry.
In addition, the site needed to demonstrate their overall expertise and provide the means to start conversations that could cultivate long-term partnerships with property owners.
Lastly, Pacific Development Advisors wanted the website to use clean and professional design elements to accurately reflect the brand while still communicating openness and transparency in their representation practices.
Our solution
When designing for Pacific Development Advisors, we knew it would be important to find a way to successfully meld the professional and industrial aspects of the business with the more personal connection required for owner advocacy and representation.
Organizing the site so that all areas of expertise were presented on the homepage allowed for immediate clarity. Potential clients also have the option to delve deeper and read more about specific services, or review past projects to confirm that the company is a good fit.
Our choice of colors, along with imagery combined to successfully communicate both the professional experience and the personal commitment involved in doing business with Pacific Development Advisors.