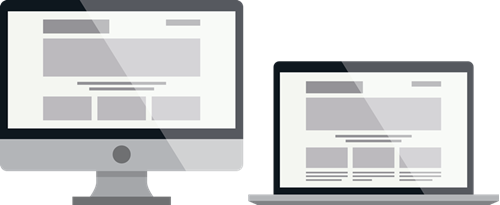 As customer and client expectations change, it's no longer enough to just "have a website" for your business.  Instead, your business needs a website that serves the needs of your customer base – it has to not only look professional on multiple devices, it also has to perform any number of tasks quickly, efficiently, and securely.
With so many consumers expecting advanced functionality from the websites they visit, the cost of custom web design and development can increase quickly. However, these costs are best viewed as an investment in both branding and overall sales and marketing initiatives.
When evaluating the budget allotment that you are willing to invest on your website, consider these ten areas:
Design Quality
There is no arguing that websites are visual media – the colors, layout, styles and other elements all come together to form a cohesive experience that reflects your brand.
And while most people are not professional designers, it does not take a practiced eye to notice when something is "off" about a particular style choice or layout. These minimal design errors can cause significant erosion of brand credibility and trust.
In short, investing in top-quality design ensures that your website comes across as trustworthy and believable by your target audience.
Usability
Usability is the next big hurdle your website has to clear if it's going to be a positive asset for your business. User frustration will cause website visitors to abandon your site regardless of how it looks. Your website must load quickly, and links, buttons, forms and other interactive features must be obvious in appearance and functionality.
A talented web design team will be able to seamlessly integrate expected functionality with a unique look for your site, while also maintaining proper technical specifications to ensure a smooth experience for everyone who visits your site.
Security
Any business that collects personal information from customers online has to have top-notch security in place. Recently, one of the most notorious information leaks – the Panama Papers – was linked to an outdated WordPress plugin that had not been properly updated by the web developers.
Simple lapses like this can lead to major consequences for businesses of all sizes. It's essential to invest in both initial concerns such as secure hosting, and ongoing concerns such as monitoring, security patches, and updates.
Sales & Marketing
Your website can only be an effective sales and marketing tool when you have a plan for getting your content the online exposure it deserves. This includes not only outbound initiatives like ad campaigns, but inbound design aspects such as email lead generation.
An effective website design will incorporate sales and marketing initiatives through design elements that encourage prospects and leads to get in touch.
Technical Adherence
Having a website that looks good and performs well depends on having solid code that follows current established best practices for web development and design. Technical adherence to coding best practices prevents errors and unexpected behavior, which in turn boosts the user experience regardless of the browser or operating system visitors use to access your site.
Information Architecture
Information architecture refers to the organization of the pages on your website. While this may not be an immediate consideration if you have a smaller website, the more content you add to your site, the more important proper information architecture becomes.
Proper information architecture ensures that website visitors are able to find the information they are looking for in a fast, logical way. This minimizes user frustration, increases customer satisfaction, and boosts your credibility.
Content Review & Analysis
While the look and feel of your website are where first impressions are formed, the actual content will make or break your ability to convert visitors into leads and eventually customers. This is why it's so helpful to have a cohesive web design and online marketing team working for your business.
Content recommendations as well as content production can be outsourced to professionals working directly with your team to make sure the copy and the page design look perfect together. This kind of integrated effort can mean the difference between having a website that looks great but doesn't meet performance expectations, and a site that looks great and produces a measureable boost in lead generation and sales.
SEO Implementation
Along with evaluating your content, having appropriate on-page SEO implemented from day one will help to boost your rank in organic search, which in turn boosts your ability to be found by the people who need what your business offers.
These days, SEO is more than just keywords and links. Having the appropriate markup on your pages as well as the appropriate structure for your content will also boost your rankings. And on the technical side, website security and page speed also play an important role in how well your page is ranked, plus having a mobile-friendly site is now a ranking factor that Google considers in its search results – so your web design firm plays a major role in how well your page performs organically.
Expertise
The world of web design and online marketing is in a constant state of flux. Best practices from even a few years ago may be out of date, and keeping up with the latest technology can be overwhelming for small businesses that just don't have the staff or the bandwidth to handle it all.
Fortunately, when you hire the right web design firm, you can rely on their expertise and recommendations to make sure your website is always ready to provide the kind of experience your users expect.
NEED HELP WITH YOUR NEXT WEBSITE?
Our team at Bear Creek Web has years of experience in web design, web development, and online marketing. We can put together a website redesign package that will maximize your investment and deliver a flawless website that accurately reflects your brand and the needs of your target audience.