One of the many questions we often address at Bear Creek Web when working with new clients is this: "How do I get my company to show up in local Seattle search results?"
The answer is not always a simple one. Google's ability to detect a user's location when performing searches means that search results for particular product or service will be drastically different from one area to the next. Ranking well for a particular keyword phrase in one location is no guarantee that your company will rank well for that same keyword for customers located in a different location.
However, there are some tried and true local SEO optimization tactics for businesses here in Seattle (and elsewhere) that can help to improve search engine ranking across multiple keyword phrases.
Tip 1: Create Geo-Targeted Landing Pages
For businesses with one or more brick and mortar locations, having a landing page specifically for each business address provides valuable SEO ranking opportunities as well as the opportunity to provide detailed information to website visitors who might visit your store or office.
In your geo-targeted landing pages, try to include the following:
Your City & State in the Title
Your City & State in H1 and H2 headers
Your Physical Address with Location Based Markup
Your Most Valuable Keyword Phrases/Services
Links to Your Service Pages
The goal is to integrate location information naturally in your landing page so there are clear location indicators for search engines to rank your page for local Seattle search.
To appeal to website visitors, let your landing page function as an information hub for people who are looking to do business with you locally. This means including such information as business hours, a map, specific services that are unique to the location, and other pertinent details.
Done correctly, a geo-targeted landing page will encourage search engines to show your website when people search for your services in your chosen location.
We can easily integrate these changes into your existing webpage, or create a new page to assist with your ranking efforts.
Tip 2: Encourage Reviews of Your Business
When deciding on which businesses to show in the map view, Google often favors companies that have reviews, either through Google+ or Yelp.  A quick view of a local SEO result for Seattle is shown here: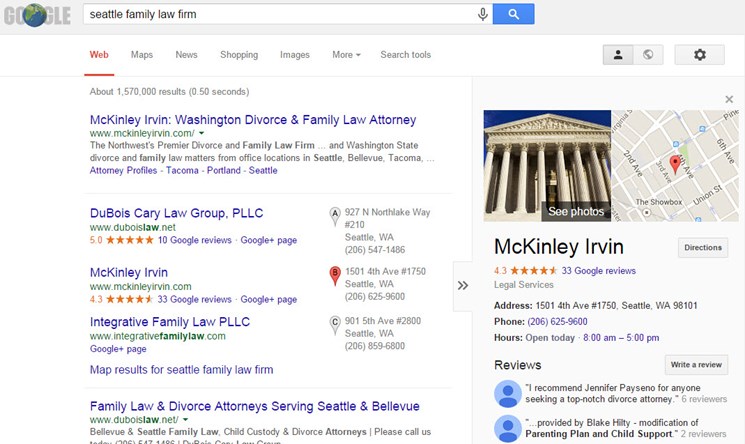 Higher reviews equals higher placement in the map of results.
As you can see, Google provides a great deal of information about these top results before anyone ever clicks through to the web page. The search engine not only shows the average rating, but also a sampling of actual reviews as well as pertinent information about the website such as the address, phone number, and office hours.  This information is all pulled from structured data on the website as well as from the companies' Google+ pages.
By encouraging reviews from current and former customers, you can increase the credibility of your site, and boost the authority that Google assigns to your website and individual web pages.
Tip 3: Use Keywords in Your URLs (When Appropriate)
If we click on that second URL shown highlighted above, this is a portion of the page we are taken to: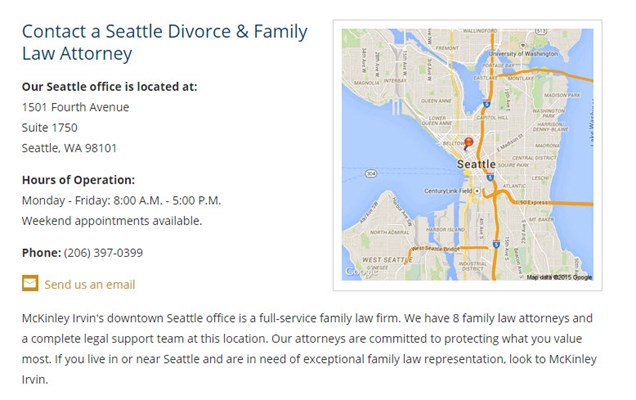 This is a prime example of a location-based landing page
The URL of page is http://www.mckinleyirvin.com/Contact-Us/Seattle.aspx. Note the location is prominently within the URL and that it follows a logical structure to accommodate multiple locations. In this instance, the law firm has locations not only in Seattle, but also Bellevue, Tacoma, Vancouver and other areas. Each one has its own landing page with unique content, and links out to the particular services provided.
Tip 4: Encourage Location-Dependent Backlinks from High Quality Sites
Having backlinks from reputable sites is always a ranking factor in SEO and when paired with local SEO efforts, the types of sites become more important. Here are some types of sites to consider:
Local business alliances/organizations
Local chamber of commerce
Directory sites
Local news stations (news stories lend tremendous credibility)
Local charities (sponsorship links)
Tip 5: Maintain Your Local Business Page on Google
One item is consistent for all results shown in the map listing for local search above – all three have Google+ pages with content information that mirrors what is found on their site. However, not all of these businesses have active Google+ profiles with multiple posts and followers.
What seems to be most important in this instance is that the information found on Google+ accurately matches the information found on the companies' websites, which allows Google to more readily validate that this is a real business with a physical location that can be confirmed.
Final Thoughts on Ranking a Website Locally in Seattle (or Anywhere)
Many of the same ranking factors that apply to general SEO factors also apply to local Seattle SEO. High quality content, social validity (reviews), backlinks, and keyword optimization all play a role.
You can amp up your local SEO efforts by using specific structured data to provide even more information to search engines so that they will display your location to people looking for your particular service.
To optimize your website for local search, be on the lookout for opportunities to showcase particular locations in your website content such as:
Blog posts about on-site events
Press releases about news-worth happenings in your business
Reviews for specific locations
If you're having trouble ranking locally for your business, we can help. Contact us and we'll work with you to come up with a plan for gaining traction in your online search ranking, no matter the location.